Hi there everyone and welcome to another week!
Since the arrival of
Glimmer Mists by Tattered Angels
, we scrappers have been using coloured mists to create subtle effects on our scrapping pages and OTP's. The colours, sheens and qualities of these mists vary from company to company and today I'd like to show you a project using
Maya Road Memory Mists.
These
Memory Mists
can be found in the SNCWT shop
HERE.


The
Maya Road Memory Mists
have been created with the chipboard enthusiast in mind - so the colours are brighter, stronger and have more vibrancy.
These mists look wonderful just sprayed directly on a page, chipboard or used as a background, such as the pictures below show you.
Simply follow these simple steps and you could also be creating your own backgrounds in a fabulous array of colour - the choice is completely yours!
You Need:
Some artists'
Masking Fluid - available at scrap n craft with t - maya resist!
Essentially masking fluid is a liquid polymer paint (like liquid rubber) that dries in a few minutes to form a coating over your background. It can be applied however you like, although this time I have used a thin paintbrush and I have painted words on the base cardstock with it.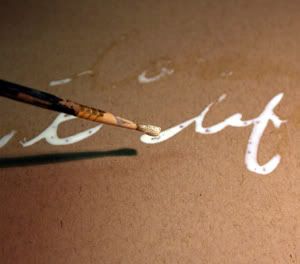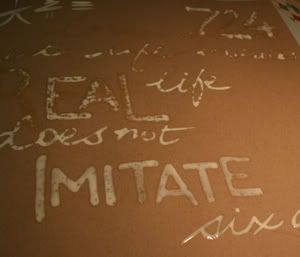 After a few minutes' drying time, you can spray your Mists over the top of the masking fluid or even flick it with paint in numerous colours. When spraying onto cardstock, it might be worth taping your cardstock to a flat surface to prevent warping.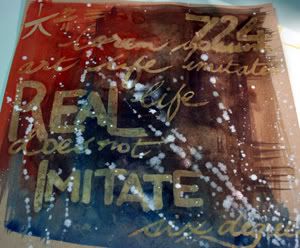 Once your
masking fluid
is dry, you can peel it off the base card. It simply pulls or rolls off, leaving the surface underneath clean and dry.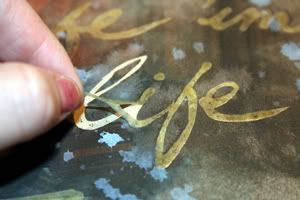 Simply scrap over the top as usual and VOILA! You have a custom made background using
Memory Mists
that people will be itching to copy!
Now go get messy :)
Have fun everyone!
Sares x
WE HAVE 15% OFF ALL GLAMMER MIST AND MAYA MIST THIS WEEK!